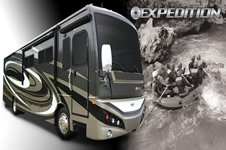 Contemporary Interior Decor
The decor is so stylish, it causes many people to remark, "This is nicer than my house."
Spacious Living
The floor plans are designed to maximize the roomy feeling, and the tall ceilings and slides provide even more space.
Name Brand Appliances and Electronics
From the galley to the entertainment system to the bedroom, you'll find name brand appliances, electronics and furnishings.
Top-of-the-line Components
Expedition is outfitted with the finest, from the plush, padded carpeting to the cedar-lined wardrobe in the bedroom suite.
Superior Ride and Handling
Fleetwood diesel coaches have earned a reputation for excellent handling, road manners and comfort.